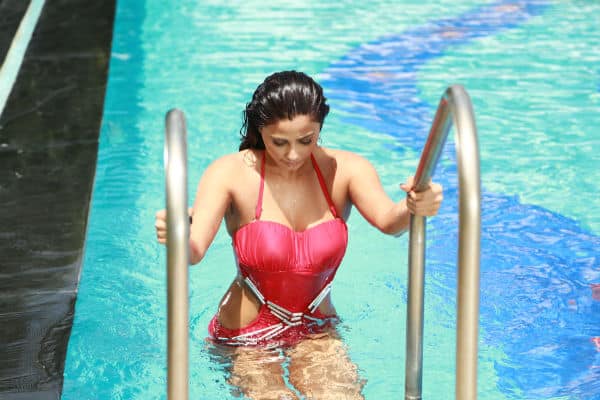 Shedding her girl-next-door image, Daisy Shah has shocked the audiences with her new avatar in the upcoming third sequel of the erotic thriller film Hate Story 3. The actress who debuted in Bollywood with Salman Khan starrer Jai Ho, has recently confessed that she was sceptical about doing the film and hence she consulted Salman Khan to take his advice. "It took me more than three months to decide whether I should do it or not", she said. Daisy further revealed that she wants to portray different roles with her every new film.
Says Daisy, "I can't reveal too much about my character, but all I can say is that there's a twist to my character which will shock people! It took me more than three months to decide whether I should do it or not. Initially, I was very sceptical about doing it as I wasn't sure if I would be able to pull of those scenes. Then I dicussed it with Salman who said, 'If the role is convincing enough, you can pull it off. We are living another person's life. It's the character and not Daisy, the person, that the audience is seeing on screen.' I was lucky to be offered this role after Jai Ho where I played the girl-next-door. This role is not just challenging but poles apart from what I have done in Jai Ho! That's why after Jai Ho I kept myself busy with events, shows and appearances rather than sign any random films. I want people to go 'OMG!' And not, 'Yeh toh humne dekh liya'."
She sizzles in a seductive dance track called Love To Hate You Baby. Daisy says, "It's the ultimate break-up song. I am wearing a monokini in it. My aim was not to look skinny or be a size zero, but have tight, toned muscles, so I was very confident when I wore it. I can happily flaunt my body today! Looking sexy isn't easy. It takes hard work and dedication. Most importantly, if you feel sexy, you look sexy."
Daisy says she hasn't starved herself, but has eaten in proportion to wear the monokini. "Besides controlling my diet, I did functional training, weights, pilates and cardio everyday. I had different workouts for all the days of the week."
Daisy has admitted that Salman Khan is her mentor. She said, "I am not going to deny that. He is Salman Khan and I am lucky enough to have that access to him. Also he knows everything on films — from dialogues to scripting — and that knowledge has helped me. I am thankful and grateful for the advice and help that he has always given me".